Mental Health and Wellbeing
At Churchfields we love to nurture our minds and bodies.
Welcome to Churchfields Infants' School Mental Health and Wellbeing page. My name is Emma Beck, and I am the Mental Health and Wellbeing Leader here at Churchfields Infants School.
"Mental Health and Wellbeing are given a very high priority in the school with personal development provision being outstanding. The SENCo is also the Mental Health and Wellbeing Lead who works very closely with the Learning Mentor." (IQM Flagship Review November 2023)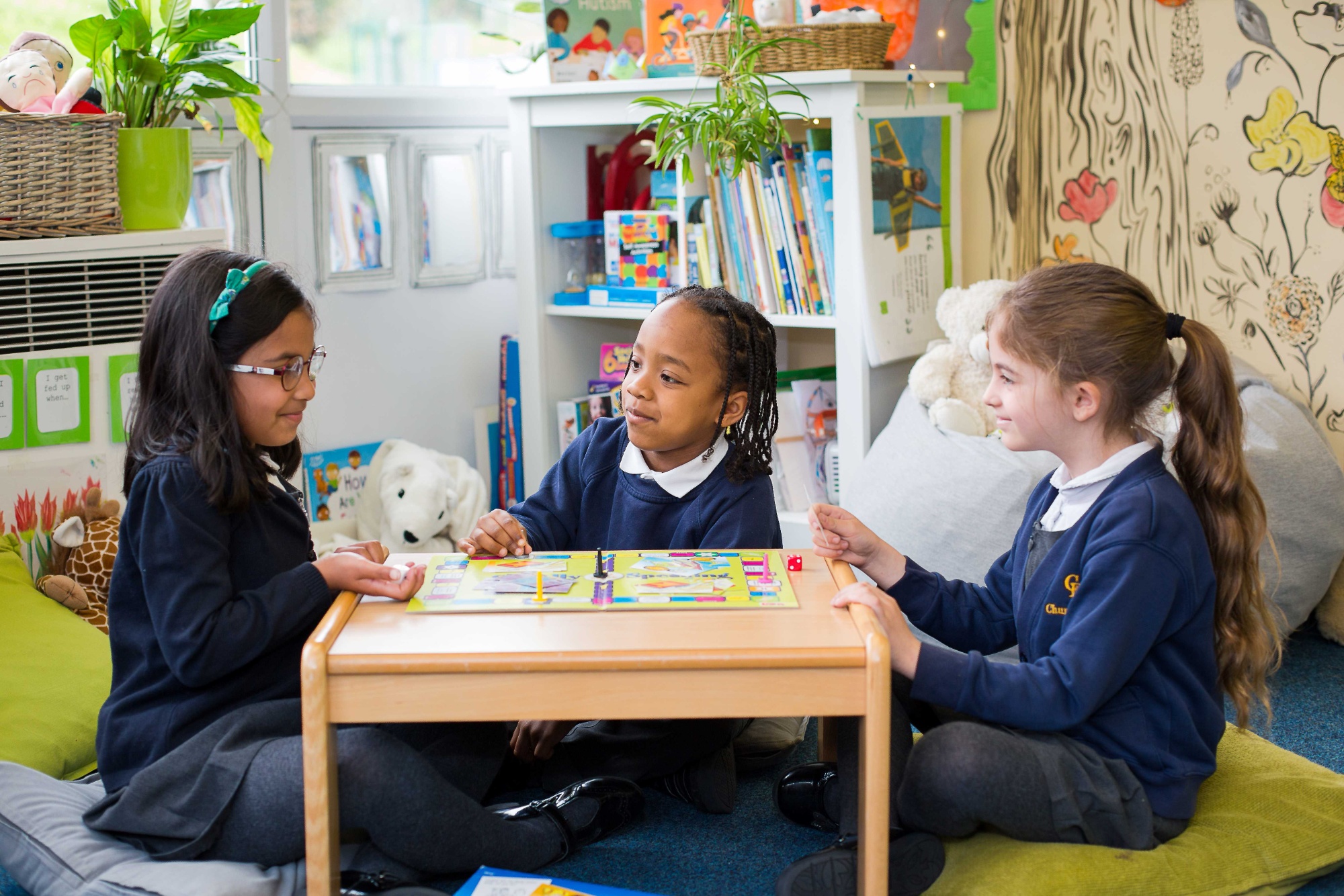 Whole School Approach
Here at Churchfields Infants' we believe that when a child feels happy, healthy and emotionally well they will be more ready to learn and grow. We all have a role to play to ensure that our children learn about what they can do too in order to keep a positive approach to school and where to go to should they feel that they need support with this.
Positive mental health is not only to be promoted for children but also for staff, parents and visitors too. We truly believe that wellbeing promotes good teaching and learning.
Please see how we strive to achieve this in school below.
Children
Our school ethos - We pride ourselves on our ethos of being kind and supporting all of our children. As an Infant School we are all acutely aware of the need to nurture young children and to care for them.
Values/Philosophy - supports children to explain how they are feeling.
Support with friendship groups - We have a high ratio of adult to children in our playgrounds. This helps to foster a collaborative, cooperative and playful feel when outside but also offers the opportunity for adults to intervene and support when required.
Nurture (Acorns) - Drawing and Talking, Sandworlds and other nurture programmes offered by our highly trained Learning Mentor/ELSA in our Acorns room. Nurture is offered to vulnerable or potentially vulnerable children. Our analysis highlights disclosures stemming from nurture sessions.
Outreach Services - SENCo has the opportunity to refer to outreach support for any significant concerns. CAMHS and SEaTTS are available to all children if felt necessary.
PLAY! - All of our children have the chance to play! This is very important to us as play is the way into the world of children. Children from Nursery to Year Two have this opportunity.
Leadership Groups - children have the opportunity to make decisions and have their voice heard by being part of a leadership group from Y1.
Staff
Leadership - our senior leaders demonstrate emotional intelligence including self-awareness, self-regulation, motivation, empathy and social skills.
Mental Health first-aider - available for all staff.
Staff training - around mental health and wellbeing, positivity and resilience.
Stress Risk Assessments - completed when necessary to support staff.
Regular breaks - Staff encouraged to take their entitlement for a break, with refreshments if wanted, in the morning and then their lunch break too.
School closes at 5.30 p.m. - Staff are asked to leave by 5.30 p.m. to support a positive work/life balance.
Regular social events - Events are planned throughout the year to provide a social network and having time to have fun with colleagues.
Regular PPA in one block - We provide weekly PPA for all teaching staff that is blocked into one morning or afternoon. This is not broken up into smaller sessions so that teachers have a good amount of time for focus.
Spaces to work in school - We now have an additional room for PPA where there are laptops and resources available so that teachers have a space to work in.
Parents and Visitors
Daily contact - Mrs Anderson and Mrs Beck are at the gate each day at the beginning and end of school in order to welcome or say goodbye to children and carers. This allows an opportunity for adults to ask us questions or make comments.
Open door policy - We have an open-door policy within school so that, whenever possible, we are able to listen to the concerns and queries of parents and carers before the issue becomes more urgent to the adult.
Direct access for parents of children with EHCPs - Due to the nature of the needs of some of our children, parents are given access to a direct email to Mrs Beck. This is only on offer for parents of children with EHCPs but offers a supportive network for those parents in the most need.
Marvellous Me - our app allows us to share achievements swiftly with parents so they can celebrate with their child/children.
Learning Mentor and Nurture
Being an Infant School, we understand the importance of ensuring that our children feel happy and safe so that they are able to learn. Some children may require a nurture-based approach in order to support their development in all areas. This is supported in our school through school and class-based activities but also through our designated Learning Mentor. We are able to offer 1:1 or small group sessions in a designated space, Acorns, where children are able to talk, listen or play in order to identify why they may not yet be realising their full potential or if they are unhappy, anxious or distracted from learning.
One program that we use here at school is Drawing and Talking. Our Learning Mentor is trained to the advanced level in this intervention but other approaches and programs can, and are, also used.
See the link below to find out more about the Drawing and Talking program.
Signposting
We feel that working alongside parents is the key to supporting children who are not yet reaching their potential or who are suffering with anxiety or unhappiness. We have an open-door policy and so hope that parents will come to us with their concerns so that we can work together to ensure that all is done. Should you wish to find out more or gain support please find below some recommended websites or drop in to see one of us.
| | | |
| --- | --- | --- |
| | | |
| Recognising the signs that a child may be struggling with their mental health can be really hard. The NSPCC have advice to help you support children. | Young Minds have lots of practical advice and tips on supporting your child, from how to encourage your child to open up about their feelings to dealing with mental health services. | This NHS website contains tips on what you need to know as a parent, the latest risks and how to seek help if you know someone at risk. |
| | |
| --- | --- |
| | |
| Anna Freud provides advice and guidance for parents and carers to help them support a child or young person experiencing poor mental health or wellbeing. | Childline gives children and young people a voice when no one else is listening. Whatever problems or dangers they face, Childline gives them somewhere to turn to for support when they need it. |
For parents and school staff: