English
Welcome to Churchfields Infants' School English page
My name is Mrs Osborne and I am the English Curriculum Champion.
Oracy (Speaking and Listening)
At Churchfields, spoken language is at the core of our curriculum. We want all pupils to have a voice, and for that voice to be heard. We encourage children to speak in a loud, clear voice, considering their audience. We teach children to answer questions, but more importantly, to ask questions of their own. Children take part in a range of activities such as role play, philosophy, talk partners and performances to develop these skills. Vocabulary is taught and embedded across all areas of the curriculum. Therefore, our pupils have a wide range of general- and subject-specific vocabulary.
Reading
Our main aim is for children to develop a life-long love of reading and to see themselves, and the school community, as readers. We have high-quality reading areas and libraries, to which all children have access. Reading takes high priority throughout the school day and children are read a wide selection of high-quality books during their time at Churchfields.
Children are heard reading, both individually and in groups. In school, children read phonetically decodable books and texts that run alongside the phonics teaching in class, so that they always feel a sense of achievement when they are asked to read such books. We follow the Little Wandle Letters and Sounds Revised phonics programme. (Please see our Phonics and Early Reading Policy below.)
We create memorable experiences for the children and include families on a regular basis. Some of these experiences include visits to the local library, class swaps, parents reading in a variety of languages and whole school reading sessions.
Our pupils are encouraged to read a wide range of books, and to read for pleasure. We value reading for its impact on vocabulary development and comprehension skills. Children are given ownership over the books they choose to take home, showing that we value their choices and their interests.
Parents are given clear expectations about reading and are able to attend parent training and skill sharing sessions.
Writing
We understand the importance of developing pre-writing skills, such as fine and gross motor skills.
We value all aspects of writing, and children's early mark making is hugely encouraged and praised. We want children to be able to use writing as a means for their voice to be heard.
Writing is hugely influenced by the books that they read and our children are confident in writing for a variety of purposes and audiences.
We want to promote high standards of language and literacy by equipping pupils with a strong command of the written word. Pupils are taught to acquire a wide range of sophisticated vocabulary, an understanding of grammar and knowledge of linguistic conventions for writing. Grammar is taught in a range of ways, including fun games. We develop writing skills so that our pupils have the stamina and ability to write at or above aged related expectations.
At Churchfields, we strongly believe that children need access to a wide range of activities such as drama and role play, the use of film and imagery, modelled, shared and guided writing, peer/self-editing and discussion.
Talk for Writing is hugely important as it allows pupils to express their ideas, hear other opinions and develop and use sophisticated vocabulary.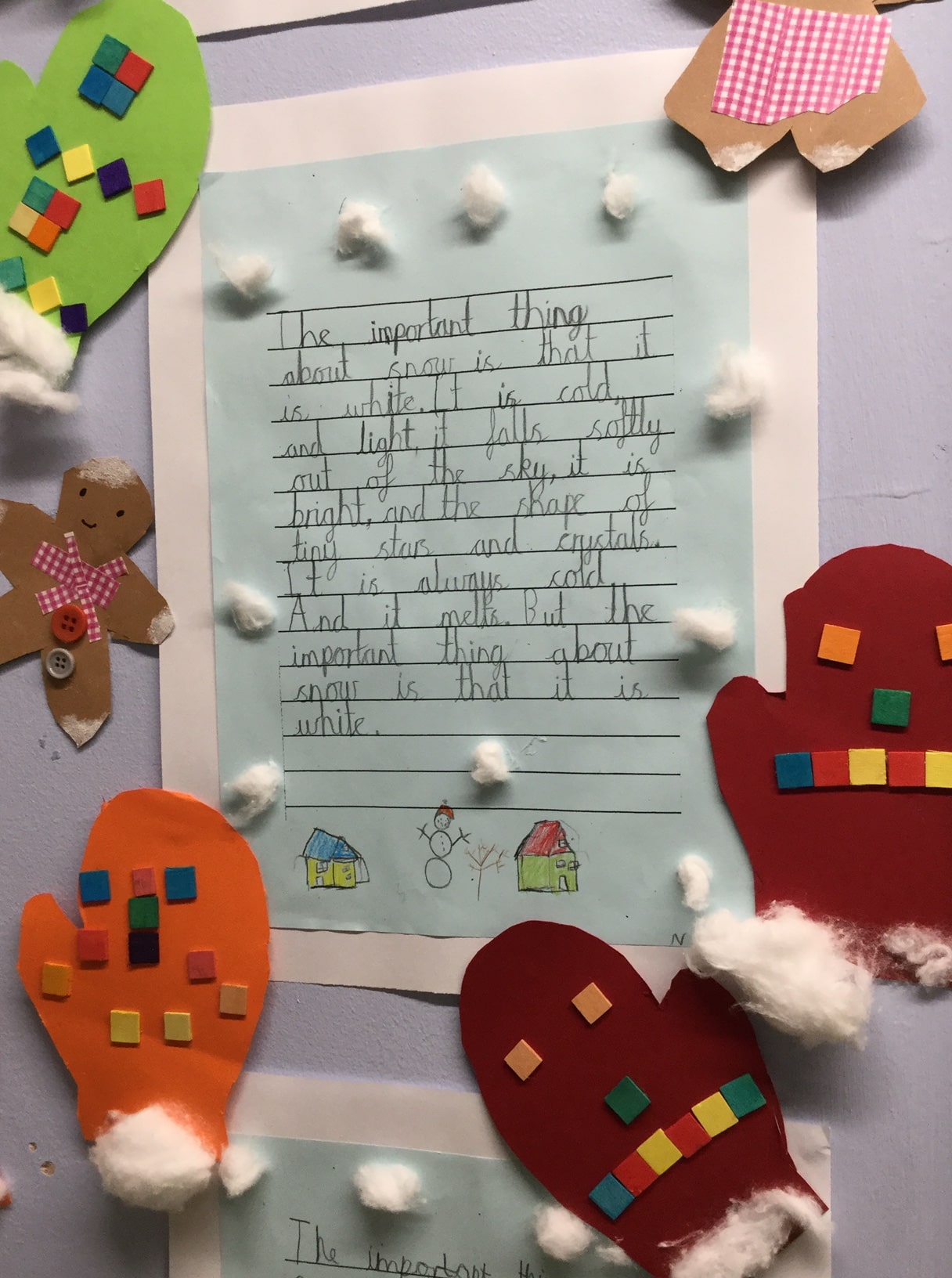 Handwriting sessions are taught explicitly and also incorporated into English lessons. In Reception, the muscles in children's shoulders, arms and hands are still developing, so we teach them to write in print. We teach children pre cursive writing from Year One, which results in beautifully joined handwriting in Year Two.
Meet Our Mini English Champions!
These children applied to be mini English Champions because they are passionate about books and reading. Part of their role is to help our English Champion, Mrs Osborne and our English link governor, Ms Anjea, ensure that all children develop a love of reading here at Churchfields Infants' School.
| | |
| --- | --- |
| "I love books, books are lovely, beautiful and wonderful. I have a lot of books at home. I enjoy fairy tales, I have a book with lots of fairy tale stories in it." | |
| | "I want to keep our school tidy and I find books interesting. Books keep me super entertained- I love them! I like reading non-fiction books about animals because I can get to know more facts about animals." |
| "I love reading books and looking at the pictures like teachers. Teachers also are happy when children help tidy. Non-fiction books teach me new things." | |
| | "I like to help and being a book monitor is fun. I like reading books about T. rex." |
| "I want to see what fantastic books there are that I can read and then I can recommend them to others. I would like to be responsible for helping keep the library tidy. I like fantasy books because they are a bit scary." | |
| | "I love books and I also love tidying things because I always tidy at home. I love fiction books because they are very creative. I read fiction books every night, and they make me fall asleep." |
| "I like helping teachers and friends. I enjoy reading books about animals because I like animals a lot." | |
| | "I like books and I love to read. I read books about animals because I find them interesting." |